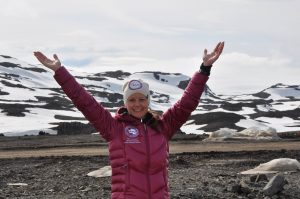 Pam hails from Grand Rapids, Michigan. She is an avid marathoner having completed 35 marathons, on all 7 continents, with a personal best of 3:48. She is a member of the Marathon Maniacs, The Official 7 Continents Marathon, 1/2 Marathon & Ultra Club, and 50 States Marathon Club.
Pam is a four-time Marathon Adventure alum having traveled with us on our inaugural Adventure to Sydney in 2009, Athens in 2009 and for our inaugural White Continent Marathon & Punta Arenas Marathon in 2013.  Pam also completed the inaugural Triple 7 Quest. We figured since she liked traveling with us so much, we needed to officially make her part of the team!
Pam joined us in 2014 and 2015 for our second and third edition of the White Continent 50k, Marathon & 1/2 Marathon and Punta Arenas 50k, Marathon & 1/2 Marathon as an Adventure Guide/Adventure Director.  She was also the Adventure Director for Berlin 2014.
Outside of running, Pam works in sales for a contract food manufacturer. She also enjoys supporting her alma mater Michigan State University (Go Green!), biking and traveling around the world.
Learn about our other staff:
Steve Hibbs, Founder & Chief Adventurer
Kurt Decker, Race Director – WCM & PAM
Rachael Hoagland, Adventure Director
Adam Irvin, Adventure Guide
Whitney Powell, Adventure Guide
Rob Horton, Adventure Guide
DeanPaul Russell, Adventure Guide
Jeremy Varnell, Adventure Guide