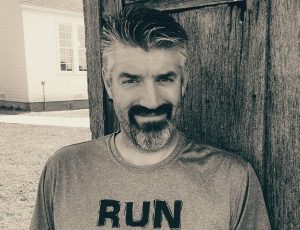 Rob Horton originally hails from New Hope, Minnesota.  He currently resides in Springfield, Missouri with his wife and two sons.  Rob was an accomplished distance runner in High School, running the mile in 4:24 and two-mile in 9:56.  Rob was a member of the Minnesota State Record holding 4 x 800 relay team, where he ran a 1:57 split.
Rob took a hiatus from running following High School, but leading into one of his H.S. reunions was bit by the running bug again.  This time he turned his focus to the Marathon and Ultra Marathons.  To date, Rob has completed over 50 marathons in 27 states, over the past 6 years.  He has also completed a number of ultra-marathons ranging in distance from 50k to 100 miles.
When he's not out running you can find Rob working as a Sales Representative for one of the nation's largest wireless telecommunications companies.  He is also an avid Frisbee Golfer and a self-proclaimed "foodie."
Rob has worked a number of race expos on behalf of Marathon Adventures, served as an Adventure Guide to the 2017 White Continent Marathon and as an Adventure Director for the 2018 WCM.  Rob will be making his third guiding experience at the 2019 White Continent Marathon.
Learn about our Staff:
Steve Hibbs, Founder & Chief Adventurer
And our Contract Partners:
Adam Irvin, Adventure Director/Race Director WCM & PAM
Tye Irvin, Adventure Director/Race Director WCM & PAM
Colleen Supple, Adventure Director
DeanPaul Russell, Adventure Guide
Jeremy Varnell, Adventure Guide